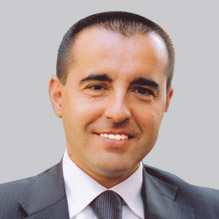 Founding Partner
50,has twenty years of effective managerial experience developed in the electro-mechanical and electricity sectors, in the field of large process industry, in that of plant design, EPC and operation&maintenance of renewable power plants.
Roberto Manzoni has been involved in: 
CORPORATE MANAGEMENT AND DIRECTION

- Company management at CEO and GM level for energy, EPC and engineering companies;  Division, B.U. and Corporate Services Direction in large industrial groups, managing relations with stakeholders and media.

START UP COMPANIES

- Sales & trading energy companies, EPC and O&M Biogas companies

BUSINESS DEVELOPMENT AND DEVELOPMENT OF NEW INITIATIVES 

- Sales for wholesale and retail electricity market, Energy Trading, Electrical Infrastructures development, Emissions Trading, agro-energy chain development, anaerobic digestion plant design and technology, power plants O&M
 
ORGANIZATIONAL DEVELOPMENT AND STRATEGIC PLANNING 
To be reported, in particular, since 2002, the creation of a new division dedicated to the management of the energy activities within a primary pulp and paper European Group, increasing and developing it to the point to get to a non-core business equal to 15% of the consolidated turnover in 2008.
Roberto has taken care of industrial initiatives, investment projects, processes implementation and reorganization programs, has promoted new initiatives in different phases of the electricity chain, as well as in strategic partnership with primary  operators, and has designed, created and developed a new sales and trading company, which has reached a turnover of about 300M€ in four years.
Since 2010 Roberto organized and developed a new integrated energy operator in the biogas sector on three different business lines:
- Plant engineering and construction
- Agro-energy chain management and energy production 
- O&M services supply
He led this company to become in less than three years one of the leading players in Italy, increasing its turnover by 25 times;  he has provided it with its own system technology, realized over 50 power plants now operating, developed about 20 subsidiary companies everyone with its own production plant and related agro-energy chain. 
The companies where he worked: 

The professional achievements reached are the basis of the personal and professional contribution that Roberto Manzoni can ensure in managing and coordinating RO.A.D Strategy Solutions consulting services, as well as the best guarantee for our customers.