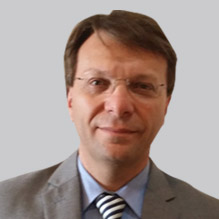 Founding Partner
48, has consolidated his twenty years management experience in the energy world, in EPC sector and in power plant operation&maintenance, in desalination plant construction and project management, in  renewable sources plant engineering and power generation, in the Oil&Gas supply chain.
Davide Manzo has been involved in: 
HEAD OFFICE AND BUSINESS MANAGEMENT 

- Company management at GM level for supply chain companies in oil & gas sector in Thailand; branch and company management for Ltd projects in Turkey, Kazakhstan and Middle East, both power generation and desalination

START UP COMPANIES AND NEW PRODUCTION SITES

- EPC e O&M Biogas Company, new manufacturing site piping production

SITE, PROJECT, PLANT MANAGEMENT

- Site, Project and Plant management in major international groups for the sectors of power generation, desalination, renewable energy
BUSINESS DEVELOPMENT

- Products Sales Support, power generation plants and facilities. Business development and commercial activities for the promotion and sale of O&M services for power plants
 ORGANIZATIONAL DEVELOPMENT
The companies where he worked: 
Davide Manzo is operating since 2012 in the Strategic Consulting, in Asia and Middle East, actually he resides in Thailand.